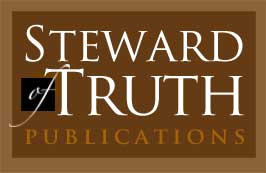 Nurturing Christ's Church with the Truth of God's Word
Those who know Your Name will put their trust in You, for You, O LORD, have not forsaken those who seek You.(Psalms 9:10)
This is the Leader's Guide. The God of Our Lives is a study of the character and works of God using a selection of His Hebrew names. The purpose of this series is to help Christians know - and love - more fully the God in Whom they trust.
Except for our printed books, The Pleasure of My Father's Fellowship and More Than a God of Grace (Evangelism Booklets), Steward of Truth Publications offers all its courses and leader's guides for FREE. Please accept these discipleship resources as our gift to you.
Our prayer is that your life - as well as those you impact - will be transformed to more accurately and consistently represent the Lord Jesus Christ to a world that desperately needs to know Him.
WHAT'S INSIDE
Chapter 1 Yahweh (Our God Is Faithful)
Chapter 2 Yahweh (Our God Is Self-Existent)
Chapter 3 Yahweh Nissi (Our God Is Truth)
Chapter 4 Yahweh Yireh (Our God Is a Gracious Provider)
Chapter 5 Yahweh Meqaddishkem (Our God Is Holy)
Chapter 6 Yahweh Sabaoth (Our God Is a Watchful Defender)
Chapter 7 Adonai (Our God Is a Loving Master)
Chapter 8 Elohim (Our God Is All-Powerful)
Chapter 9 El Roi (Our God Is an All-Knowing, Ever-Present Help)
Chapter 10 El Shaddai (Our God Is All-Sufficient)
Chapter 11 El Elyon (Our God Is the Supreme Sovereign)
Chapter 12 El Olam (Our God Is Unchanging and Eternal)